Paphos Villas
Private Villas are becoming a more and more popular choice for wedding ceremonies and receptions in Cyprus. They are appealing in that they are totally private and offer exclusivity to wedding couples for their special day, and can range to accommodate 'simple' low-key functions to more extravagant affairs, with decorated tables, evening entertainment, caterers, and waiter services all arranged by us.
Whether you choose a sea-front or a mountain location, we have some of the finest, luxury villas on our books with absolutely breath-taking views. We can offer you a large selection of villas which will suit wedding parties of all sizes, some sleeping as many as 14 guests.
We will assist you in finding the perfect villa for you on your wedding day, and we specialise in expertly coordinating your day so that it is stress-free!
Ethnographic Museum
Rich in local history, this small museum offers privacy and something fun and quirky for those wanting something alternative. Quaintly located in the Old Town of Paphos, the original building which houses the collections was constructed in 1894, opening as a museum in 1958. Today it also serves as the private residence of the mother and daughter of the Museum's original founder, George S. Eliades. Thus, the Museum is private collection of local history and is still family run. The grounds give way to a beautiful, private courtyard which offers an intimately charming setting for your ceremony.
The space is available for civil, symbolic and religious (Christian) ceremonies, as well as cocktail receptions and wedding dinners.  Guests are free to explore the exhibits, and wedding parties have the option of organising champagne, refreshments and canapés.
Aphrodite's Rock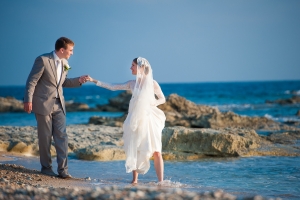 Both civil and symbolic wedding ceremonies can take place by the famous Aphrodite's Rock. It is truly one of the most romantic spots on the island to marry, and is ideal for small intimate weddings.
The local legend tells of Aphrodite; the ancient Greek Goddess of Love being born out of the foaming blue waters surrounding the rock. The location can be enhanced with wedding arches, floral displays and chairs.
Ottomans baths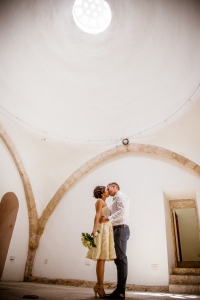 Located near the old market place, the Ottoman (Turkish) baths are a lovely venue for those wishing to get married in a location steeped in history and local Cypriot charm. The Ottoman Baths function as part of the Municipal Cultural Centre and have a stunningly picturesque courtyard in which you can host your wedding ceremony.
Civil ceremonies are generally performed at this charming location. Refreshments and snacks are readily available in the adjoining taverna. Additionally, wedding receptions can be catered for at this lovely outdoor venue.
Medieval castle
We are pleased to offer this new and beautiful venue for civil ceremonies to those wanting something a little more unusual.
Originally built as a Byzantine fort to protect the harbour from Invaders Paphos Medieval Castle can now provide a delightful new available for civil weddings.
It is situated in the heart of the tourist area – the stunning Paphos harbour. This medieval castle with its beautiful structure with a romantic element about it, will appeal to those that want something different. Perfectly set up and ideal for the smaller wedding parties – up to 25 and equally suitable for intimate weddings for two.
Following your civil ceremony at the romantic castle you can then dine at one of the many fine harbour restaurants.  You couldn't be in a more perfect location for your stunning wedding photos.
Eléa Estate, Golf Club Resort
With its gorgeous views, stunning interiors, spacious grounds and breath-taking location, Eléa Estate is the heart of a magical wedding day experience. Eléa is a highly appealing venue as it only caters to one wedding per day, offering a lot of privacy for wedding parties. It is an upmarket golfing estate that is used for both wedding ceremonies and/or wedding receptions. Eléa has a choice of different outdoor and indoor areas that can cater to weddings of different sizes, ranging from small groups of 10 to larger groups up to 280. From 5 pm onward, it is highly unlikely that you will see anyone other than staff, ensuring first class service and attention.
As a venue, Eléa stands on its own and has no neighbors, which means that you can have a DJ/entertainer playing music into the early hours of the morning. Typically, wedding celebrations are required to finish by 1 am. However, for an extra fee a time extension can be granted. The venue is situated approximately a 10-15 drive outside of Paphos, and is easily accessible from the tourist area.
It has exceptionally beautiful views, with abundant greenery surrounding it and even a lovely little lake on its grounds. The resort can arrange to take you down to the lake in a golf buggy for a photo-shoot with your photographer. In addition, the food at Eléa is impeccable and of top quality, so when you are booking here, you are in for a treat!
Liopetro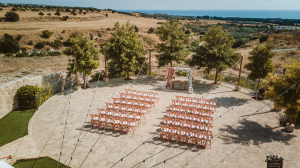 Located in the picturesque village of Kouklia, the heart of the ancient capital of Cyprus and the birthplace of the Goddess of Love Aphrodite, fashioned entirely out of natural stone and wood, Liopetro has breath taking views of the Mediterranean Sea and the surrounding rural pastures. Enclosed by beautiful gardens and with a peaceful, serene and magical atmosphere, this venue is the latest exclusive wedding venue in Paphos.
Stepping through the gates of this venue you get the feeling of chancing upon an enchanted garden, with the smell of fragrant lavender plants permeating the air, bursting with gentle shades of purple. At Liopetro you can immerse yourself in the local Cypriot charm of its picturesque and secluded grounds, away from the hustle and bustle of city life. Liopetro offers total privacy and only hosts one wedding ceremony/reception per day; ensuring each couple exclusivity for a bespoke wedding. For wedding receptions at this venue, celebrations are permitted to party until the clock strikes 12(pm)!
If you wish to have your wedding ceremony at Liopetro, you can choose to have a civil ceremony under an elegant pergola with a crystal chandelier that shimmers in the sunlight. However, if you wish to have a Christian or Orthodox wedding ceremony, across the country road stands the magnificent 12th century Panagia Odigitria church, complete with awe inspiring frescoes untouched by time.
This venue is very popular and rightly so as it offers exclusivity and privacy to each and every wedding.
Whilst there is no accommodation available at this venue, your Bridal preparations are welcomed in the onsite Liopetro Bridal Suite where you can not only catch glimpses of your wedding coming together but also begin the walk to your aisle too.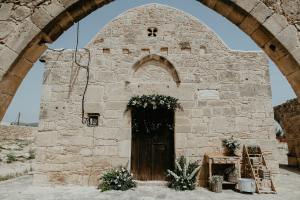 Cyprus Traditional Inn

We can now offer this unique venue for both your ceremony and reception.
At this particular Boutique Hotel venue you can immerse yourself in local Cypriot charm; stunning mountain backdrops, our vine covered terrace, delicious menus with a traditional influence and local drinks.
This venue also operates as a 6 double bed roomed hotel and can be booked for the "Bride and Groom" on the night of the wedding making your time there extra special. There is also an outdoor pool area that offers an ideal setting for drinks and optional use of a private DJ
It is approximately a 30 minute drive from the centre of Paphos and whilst it is a fare distance from Paphos in comparison to other venues, it is certainly worth the journey as there really is nothing quite like this available in the Paphos area if you are looking for a really traditional type of reception venue. We can always arrange reliable additional transport for you and your guests. If you are looking for a real traditional setting in a real traditional Cypriot village there is no better option. If you have seen the film Mama Mia then 'look no further!'