Paphos has many of the best hotels in the Mediterranean, including many exclusive, very high standard hotels. Breath taking back-drops of the sea or beautiful gardens and mountain views
Many hotels have stunning beachfront options. It is important to know that ceremonies are by law not actually allowed on the beach so you will need to choose from one of many hotels that hold ceremonies on their grounds offering Gazebos and terraces overlooking the beach and in some cases, a stone's throw from the sea.  Lots of choices are available and we can advise on the best venues in wonderful locations.
Hotels are able to offer a variety of menu's suited to different tastes, from sit-down service to hot and cold buffets. You may well want both the wedding ceremony and reception to be held  at a hotel or you may choose to get married at another venue and have only your reception at a hotel.  Whatever your choices may be, Exclusive Weddings has handpicked our favourites for you; only choosing hotels that offer excellent service, facilities and high standards favouring those when ever possible that have only one wedding per day
Hopefully we can help here, so that the day suits the couple's wishes perfectly. We can't feature all the hotels available so please do contact us for more information on Hotel Weddings in Paphos.
The Alexander the Great Hotel
Stylish ceremony venue in prime Paphos location
The Alexander the great hotel; offering  their infinity terrace with its spectacular views of the Mediterranean, the beautiful Paphos castle in the back-drop and amazing place to exchange your vows. This very elegant hotel is within walking distance to shops, restaurants and the Paphos harbour tourist area.
Corinthian terrace – This spacious veranda affords an enchanting view of the sea and the harbour right down to the medieval castle. This romantic and stylish new venue is simply stunning.  After your wedding ceremony and cocktail reception you can choose to have your wedding breakfast in the adjoining banquet hall or one of 3 other venues at this hotel.
Prices here are very competitive which makes this a popular choice for wedding days;  civil wedding and reception can follow.
Offering full privacy and a one wedding per day policy. For more info contact us.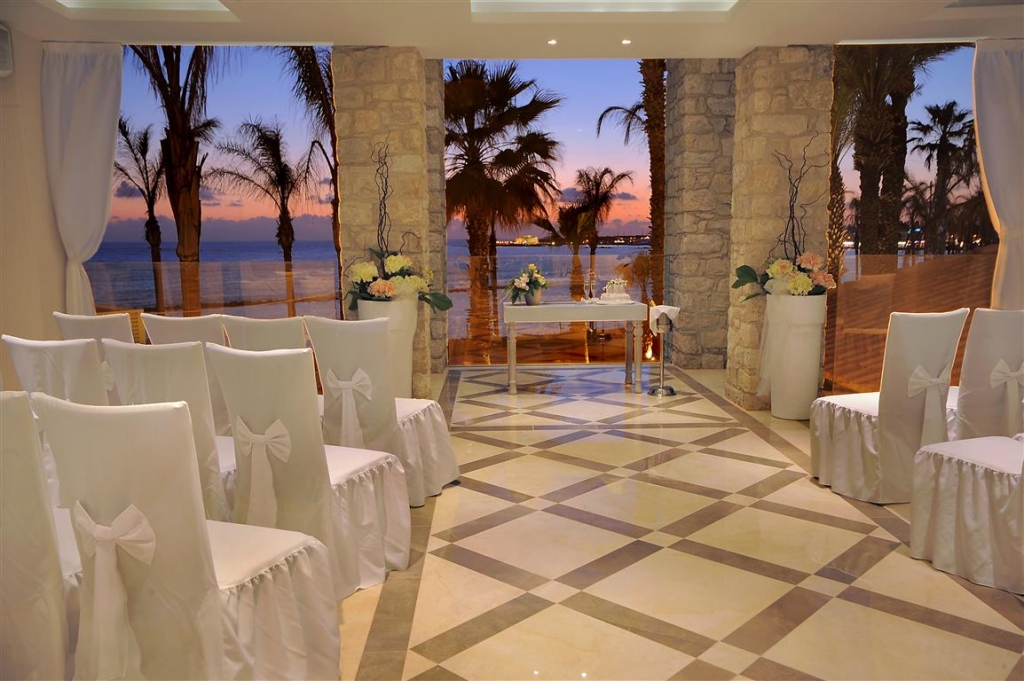 Elysium Hotel
This 5 star luxurious and extremely stylish hotel also known as one of the best hotels in the Mediterranean – 5 stars all the way. For those that want classic and elegant wedding day. The hotel has a number of rules – you must stay at the Elysium hotel for 5 days at least. Your wedding cake must be in-house. You can choose from in-door or out-door reception venue. Most popular choices for the wedding ceremonies are their Amphitheatre or the small chapel.
The hotel is situated just off the Tomb of the Kings Road – not too far travel for the harbour tourist area. This hotel has some stunning rooms and the pool areas are divine. Not the cheapest, but if your budget can stretch to it – an amazing wedding venue choice.
Whatever the size of your wedding party; be it small and intimate or a grand event; this is truly a stunning venue choice for your wedding day
Kefalos Village Hotel
This venue has an excellent reputation for arranging wedding ceremonies and receptions. We have worked with this hotel for a many years as they continue to strive to provide the best possible service for your wedding day arrangements. This hotel offers a number of venues for both your wedding reception and ceremony
This is an extremely popular wedding venue – it is very affordable and offers a number of beach side choices for both your civil wedding ceremony and wedding reception. For those that would like a religious ceremony, The Kefalos has its own chapel where you may have either a Catholic or Anglican wedding ceremony.
You may decide to stay at the Kefalos Beach holiday village – although this venue is self catering; there are bars, restaurants and pools in the main building available for the guests your use – this is located jus of the Tomb of the Kings Road; within walking distance to shops, bars and restaurants.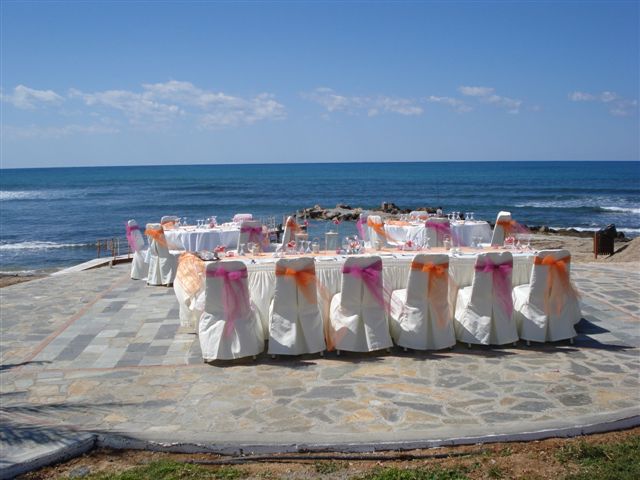 Columbia Beach Hotel Resort
Overlooking the Mediterranean – Sea and close to the shores where the goddess of love immerged from the sea waves, you will find an exclusive Venue with beautifully landscaped lush gardens, unique architecture modelled on a traditional village complemented by astonishing  dining experiences ranging from a local Taverna to elegant fine dining.
Individuality, innovation and personalised service are the key factors for the success of every event. It is the resorts aim to exceed our guest's expectations, always striving to excel in creative presentation impeccable service and exceptional food – quality, from the ceremony at the Chapel, to the cocktail reception and gala dinner.
Once wedding per day policy
For overseas or local weddings the luxurious and picturesque resort is truly the Ideal location.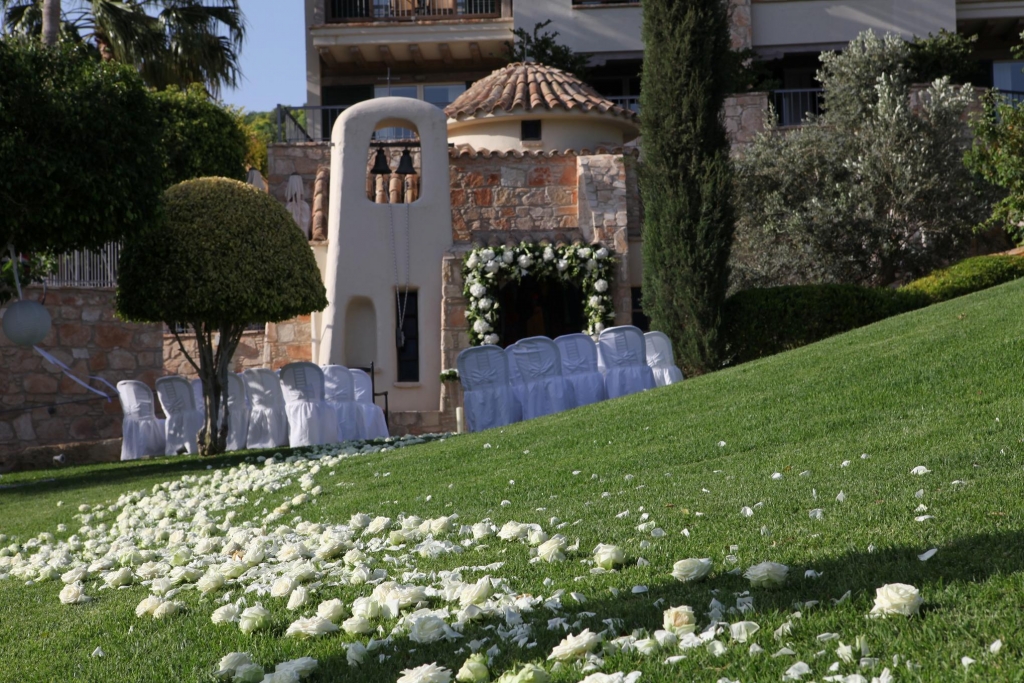 Annabelle
The Annabelle is a high standard hotel with a relaxed feel that we are more than happy to recommend it for both accommodation and as the venue for your special day. Offering simple luxury and elegance to enhance any wedding day!
Situated right in the heart of Paphos with the med-evil castle as its back-drop; with its glorious  views, understated design and elegance, combined with 5 star luxury and service, makes this an excellent choice if you are looking for something more sophisticated and extra special.  Look no further than this five star hotel; recognized as one of the top leading world hotel.
If is magical views and a wonderful setting for both your Cyprus wedding ceremony and wedding reception that you are looking for, then  this hotel, with its 'one wedding per day' policy; warmth and extremely good service is a great choice for your Cyprus Dream Wedding Day.
This hotel require that you are resident for a minimum of 3 nights when having your ceremony at the hotel plus compulsory wedding reception meal must also be held at the hotel.
Please enjoy the wedding highlights of Deborah and Shane O'Shea whose wonderful wedding took place locally at St. Paul's Pillar followed by their reception was at the Annabelle Beach Taverna.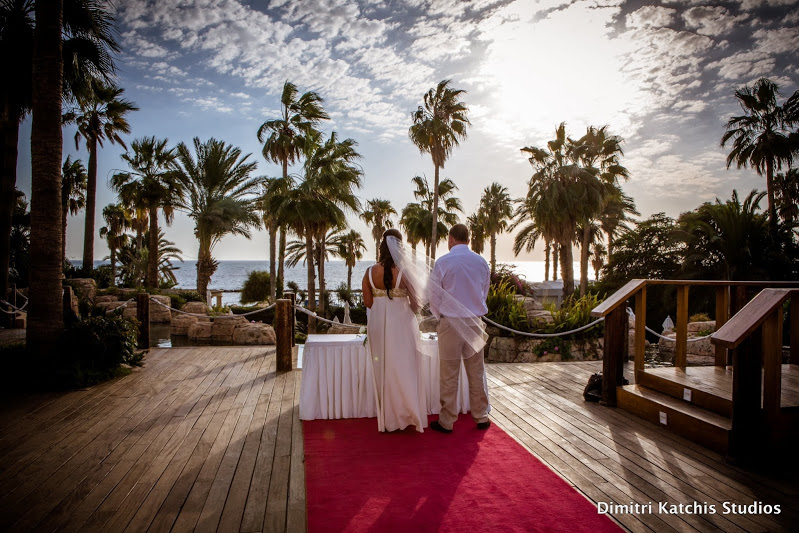 Almyra
A venue that is more on the "lavish side" is the Almyra Hotel in Paphos. This modern and stylish   5 star hotel is genuinely a fabulous choice for your ceremony and reception venue and will offer an element of privacy along with guaranteeing only one wedding a day. Well situated in the tourist area, with the Paphos Castle and Harbour as its back-drop; offering fabulous photo opportunities for your wedding day.
Weddings ceremonies; cocktails and receptions can take place at a choice of beautiful locations overlooking the sparkling Blue Mediterranean Sea. Choose from the Kyma Lawns or Kyma Rooftops, the West Mosaics terrace, or maybe the Spa Terrace with exceptional views could be the perfect location to say 'I do'
Offering Fine dining, attentive, but discreet service and always paying attention to detail. This hotel is happy to cater to all your requirements and taste to suit your specific needs. No matter the size of your wedding party; rest assured that if its luxury and attention to detail you require; then this venue will be the perfect location for your Cyprus Beach Wedding day.
This hotel require that you are resident for a minimum of 2 nights when having your ceremony at the hotel plus compulsory wedding reception meal must also be held at the hotel.