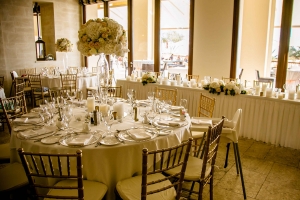 With its gorgeous views, stunning interiors, spacious grounds and breath-taking location, Elea Estate is the heart of a magical wedding day experience. Eléa is a highly appealing venue as it only caters to one wedding per day, offering a lot of privacy for wedding parties. It is an upmarket golfing estate that is used for both wedding ceremonies and/or wedding receptions. Eléa has a choice of different outdoor and indoor areas that can cater to weddings of different sizes, ranging from small groups of 10 to larger groups up to 280. From 5 pm onward, it is highly unlikely that you will see anyone other than staff, ensuring first class service and attention.
As a venue, Eléa stands on its own and has no neighbors, which means that you can have a DJ/entertainer playing music into the early hours of the morning. Typically, wedding celebrations are required to finish by 1 am. However, for an extra fee a time extension can be granted. The venue is situated approximately a 10-15 drive outside of Paphos, and is easily accessible from the tourist area.
It has exceptionally beautiful views, with abundant greenery surrounding it and even a lovely little lake on its grounds. The resort can arrange to take you down to the lake in a golf buggy for a photo-shoot with your photographer. In addition, the food at Eléa is impeccable and of top quality, so when you are booking here, you are in for a treat!