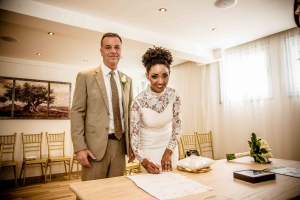 We understand that the road to conjugal bliss can be a little rocky for certain nationalities living in the UAE and other Arab States. That is where we at Exclusive Weddings Cyprus can help. Paphos, Cyprus, only a short flight away could be the answer you are looking for.
Assistance for any nationalities including clients from   from UAE, Saudi Arabia  Israel, Gulf States, Russia, Poland, Lebanon, India, France, Switzerland, Germany, Brussels, UK. No matter what passports you hold; you can marry in Cyprus simply and quickly.
You religion does not come into having a civil wedding in Cyprus, there is no discrimination.
In many cases you need only stay one night.
At Exclusive Weddings we would like to extend our professional services to those of you who wish to get married in Cyprus and are residents or nationals of UAE, Israel, the Middle East and Gulf States, as well as any other country. We aim to make this daunting process easy and stress free, from the legalities all the way to any fantasies you may have for your special day. Whether a full scale religious celebration or an intimate, simple civil ceremony for just the two of you; let us provide you with our professional services for all your needs.
Paperwork and Documentation required
Paperwork, Documentation and legalities can be daunting with any wedding, and when getting married abroad even more so. At Exclusive Weddings we are very familiar with all documentation needed for your wedding in Cyprus, and we hope to make this process easy and understandable to all our couples.
At Exclusive Weddings we make sure that all documentation and administration requirements are met, checked and accurate, before your arrival here in Cyprus. We are able to consult with you at every step of the way.
It is important to understand that when getting married in Cyprus, we need to make sure that your marriage is legal and recognized so within your country of residence. This requires some extra formalities. You're Marriage Certificate, and possibly other documentation, will need to be seen and stamped by appropriate government ministers, relative to your country of residence, all countries having different rules and regulations to comply to. This process can take up to 2 working days following the marriage. We use secure and professional courier services which ensure the departure and arrival of your documents. Exclusive Weddings makes sure the documents get to you, whether you are still in Cyprus, or you have returned back in your country of residence.
We can also assist in obtaining your Affidavit (Freedom to Marry) Certificates here in Cyprus. This only applies to British, Canadian and American passport holders –  you will be personally assisted to get these here in Cyprus, as with your marriage License. You need to be in attendance for these documents and will be escorted by your Wedding Planner.  Other passport holders will be advised on where to obtain their Single Status/Freedom to marry Documents' from.
For more information on the documents you need for your wedding here in Cyprus, do not hesitate to contact. At Exclusive Weddings we are ready to help you get this process started.
Fast Track your Wedding
At Exclusive Weddings we like to think we can make anything happen. For those who wish to have a quick, legal, civil ceremony; license applications and civil marriages can take place in the same day and you can be on a flight home by the evening. All documentation proceeding will be handled and returned to you securely back in your country of residence.
It is important to note that those who wish to fast track their marriage will need to be in Cyprus for one full weekday (Monday to Friday). Civil wedding ceremonies and application for a marriage license to marry only take place from Monday till Friday; it is important to note any local bank holidays also.
Some couples don't want anything but the civil ceremony and to return to their country of residence legally married and with an official marriage certificate.  Be aware that even with being here just the one day, we do not have to overlook any part of your wedding. Arrangements for transport, photography and bridal hair and makeup can still be made, as well as anything else you may have in mind to make the day memorable.
It is certainly not impossible to have a last minute wedding and it is possible to fast track all the legalities and processing wherever possible. However we cannot be held responsible for any change to the time and date of your wedding service and arrangements which are beyond our control. This is particularly true in cases of forgotten or incorrect documentation, which may lead to cancellation of the wedding, for which Exclusive Weddings cannot be held responsible.
To fast track your express Cyprus wedding, don't waste any time, and do not hesitate to contact Stella Virdi  – [email protected]  for immediate assistance.
Chat to Stella now if you need intimidate assistance and have any questions – call 00357 99460499