News Feed
Thank you Stella Virdi – you are amazing.. you made our day!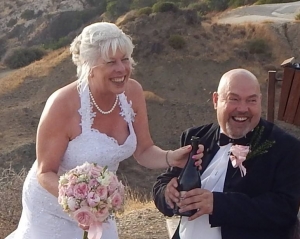 Then you changed our lives. Lots of love to you and so many thanks x x
Lyn and Ted who married here in Cyprus 3 years ago this weekend..
For me a life-changing experience. We are now living here and I am enjoying helping other couples who want to make their day special. Whether it is a wedding celebration, LGBT marriage celebration, or a vow renewal.. I would love to help make your day a day to remember using words which you are comfortable with, and words which mean something to you.. You can include music, readings, symbolic ceremonies such as hand fasting or sand blessing..
The ceremony can be held wherever you like. The only limit is your imagination! Happy Anniversary Ted.. and thank you for a life of music, love and laughter x x